Ethereum Transaction Volume Totals at $41bn in November
Ethereum transaction volume in the month of November hit $41 billion and DeFi platforms also contributed largely to it according to DappRadar.
November has been a turbulent month for Ethereum's (ETH) decentralized applications (dapps) as all public attention was riveted to the long-awaited launch of ETH 2.0.
On one hand, the total value locked (TVL) in dapps surged to more than $13 billion, on the other—user activity declined in comparison to October, according to DappRadar's monthly report published yesterday.
Per the report, while the TVL surpassed $13 billion, it was in big part due to the price volatility of Ethereum and other altcoins. The adjusted TVL (where price increases weren't taken into account) amounted to around $11 billion in November.
Ethereum transaction volume increased by 1,784% year-on-year (i.e. compared to the same time period in 2019) but have dropped by 12% since October, amounting to over $41 billion. Decentralized finance (DeFi) platforms were responsible for 99% of this volume.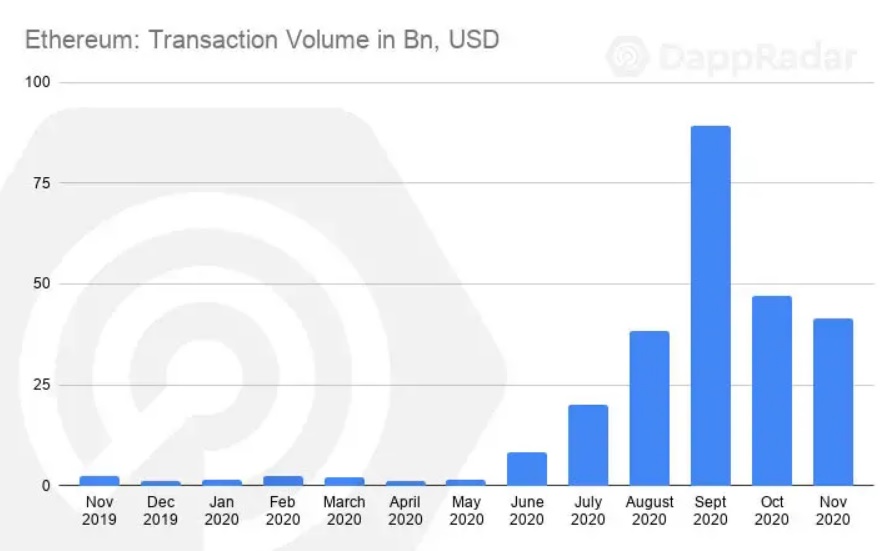 Ethereum transaction volume reached $41 billion in November. Image: DappRadar
Simultaneously, the price of ETH token reached its highest level this year, rising to nearly $600 by the end of November. However, despite the positive backdrop on the eve of Ethereum 2.0 launch, gas prices remained a "major network issue" for Ethereum, averaging to around 55 Gwei, the report noted.
Likewise, the total number of active daily wallets dropped by 19% compared to October—from 54,000 to 45,600.
"While overall activity mostly decreased in the DeFi dapp ecosystem in terms of headline figures there were still important events taking place. Important mergers happened during November," the researchers noted.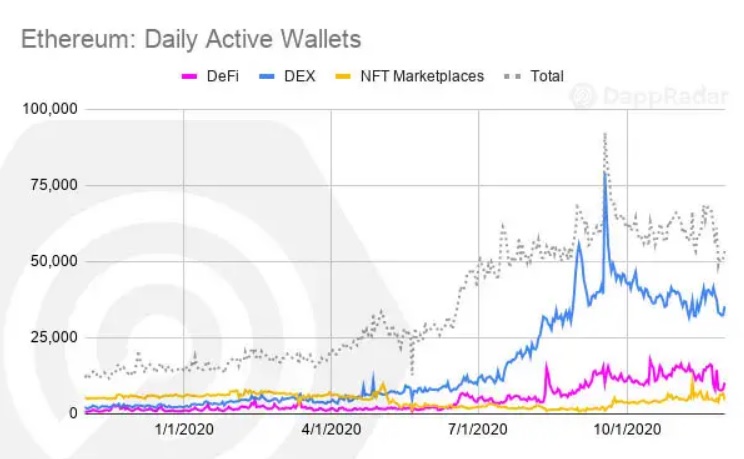 Namely, popular DeFi platform Yearn Finance partnered or merged with several other projects in the space, including SushiSwap, Akropolis, Cover, Cream, and Pickle. DappRadar asserted that "the merge might result in increased activity within the category in the future."
Technical vulnerabilities proved to be another pain point of DeFi, "undermining confidence in the sector's security." As Decrypt has noted, several DeFi projects have become victims of hackers recently, including Pickle Finance (hacked for $20 million) and Value DeFi (hacked for $6 million). And such flash loan attacks will only get worse, experts warn.
DappRadar said, "To conclude, November was all about Ethereum 2.0 news and speculation, token price growth, and increased TVL. Although transaction volume and daily active wallets decreased during November. We believe that improved results lie ahead for Ethereum."
This article is sourced from:https://decrypt.co